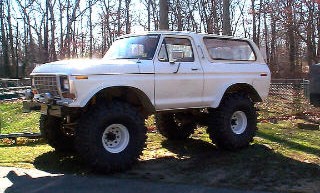 James Oxley's 78 Bronco Custom
James is the proud owner of 3 78-79 Broncos (that's right, three!). This gigantic white 78 Custom is the largest of the three. This Bronco is equipped with a 400 that features an Edelbrock intake, Carter 625 CFM carb, double roller timing chain, and Black Jack headers. The rest of the drive train comprises of a T-18 4spd transmission with a Mean Green clutch and a NP205 transfer case. The axles are a Dana 60 in the front with coil springs and a 14 bolt axle in the rear, both equipped with 4.56 gears and Detroit lockers. James was able to fit the massive 44x19.5x16.5" Boggers mounted on 16.5x12" steel rims by installing a 7" Superlift kit, 2" body lift, rear shackle reversal kit, stainless steel brake lines, 4 Rough Country shocks in the front, 2 RS9000 shocks in the rear, a 6 State extended non-CV drive shaft in the front, and a Denny's HD drive shaft in the rear.

In addition to all of the modifications above (yep, there's more) James has added dual exhaust, an AGR Saginaw PS pump, a PS cooler, rear disk brakes, extended air breathers for both rears and the transfer case, a Warn Classic winch bumper w/ a M12000 winch, a custom 2x6 tubular rear bumper w/tire carrier & shackle mounts, a class III hitch, 6" 150W front lights, a single flood light in the rear, a custom "Y"-type traction bar, over-sized rad, custom sheet metal fender flares on the cut out wheel wells, custom skid plates in the front & rear, a Grant GT steering wheel, a full set of gages, a panty-hose air cleaner cover, and onboard air with a 25 gallon tank.
-- Hmm....... GO GO GADGET BRONCO!!!