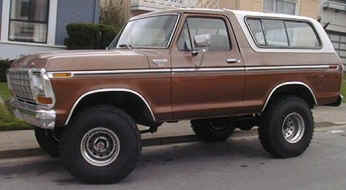 George R's 1978 Bronco Ranger XLT, Pacifica, California
George purchased this really sharp Bronco in 1999. Since then he has replaced the original 351M with a new 400, replaced the water pump, fuel pump, distributor, carb, alternator,
voltage regulator, battery, oil pressure sending unit, EGR transducer, EGR
valve, brakes shoes and drums, and the door weather stripping. George has also installed a B&M transmission cooler for the C6, 4.10's front and rear, and a Detroit locker for the 9". This Bronco features a 4" Rancho suspension lift and 35" Mud Terrain tires.
George's future plans for his Bronco include installing a MSD ignition system, a performer intake manifold, and a little radiator repair. To see more great pics of this Bronco, check out George's web site at http://home.off-road.com/~bronco400/
-- Oh man, I can see it now.... take the top off, turn up the radio, and go for a nice long drive along the coast. Now that's the only way to go cruz'n in sunny California!