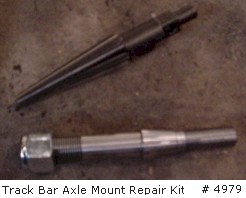 Attempting to get rid of all of the play in old solid-axle Fords can be quite tricky at times. One of the main causes of excessive play in the steering on 78-79 Broncos and late '70s F-Series 4x4s with coil springs is worn bushings in the track bar. Replacing these bushings can work miracles for the steering in many Fords, but sometimes it is not enough. Many trucks have so much wear and tear on the track bar that they will actually a have wobbled out (oval shaped) axle bolt mount. If your truck has a wobbled out, or oval shaped bolt hole on the axle mount for the track bar, then keep reading Zach's article below to discover how to permanently fix the play in your track bar.
If you have excessive play in your steering, even after changing the bushings in your tack bar, then it is probably a good idea to check your track bar mount on the axle for play in the bushing itself. if its the mount, contact Ingalls Engineering at 1-800-641-9795 and ask for part number 4979. The kit is $55.00, but well worth it. You will also need the proper size ream. KD tools makes the proper ream, and its part number 2044. This ream is available at most tool stores, or online at www.mytoolstore.com.
To fix the axle mount, follow these instructions;
| | |
| --- | --- |
| | Remove track bar bolts. |

Remove old bushings from track bar (if replacing with new).

Clean up the track bar, removing all old bushing from the mount

points.

Remove tie rod on passenger side.

Measure and mark reamer with a piece of tape at the point where it is

7/8 inch. This is the final size you want the hole to be after reaming.

Either by hand or with the drill, ream hole to proper size. Go slow,

check the fit of the pin often, do not go to far.

Fit pin, tapered spacer and lock nut in hole, add a little red

Locktite to the taper for security, tighten nut.

If you took my suggestion, you have a nice shinny new 9/16 x 3.25"

bolt and nut. Use this on the frame end of the track bar.

Fit the track bar in position, tighten the securing nuts, just enough

to snug up the bushing.

| | |
| --- | --- |
| | Reinstall tie rod end. |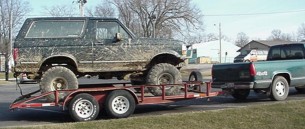 You should now have a bronco that steers a lot better, and does not require one of these to go down the road.
Related Articles:
Replacing the Track Bar Bushings