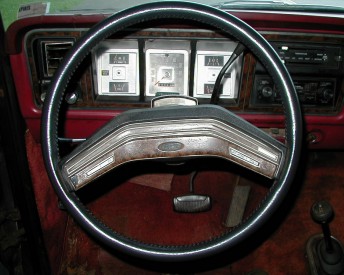 Yea, I know. The sole purpose of a steering wheel is to turn the vehicle's wheels from the left to the right and visa versa. But hey! Can't it be comfortable too? This is the very same question that should have been poised to ALL of the automobile manufactures prior to the mid 1980's when they were still installing the so-called "standard grip" steering wheels in almost all makes and models of cars and trucks. Unfortunately, the 78-79 Bronco was no different than the rest of the cars and trucks of the time period with it's cheesy, ultra-thin-grip steering wheel.
The easiest solution to replace the ultra-thin steering wheels that came on these trucks is to simply buy an aftermarket wide-grip steering wheel from companies such as Grant Products. However, if your Bronco or F-series truck has factory cruise control on the steering wheel, then you will also have to buy a cruise control kit from Grant if you want to keep your cruise control system functioning. This can get quite expensive.
Fortunately, there is a much less expensive wide-grip steering wheel option for cruise control equipped Ford trucks. Take a look at my steering wheel in the picture above. It looks factory original, doesn't? Well, as much as I'd like to say that it is, it's not (at least not all of it). This steering wheel came from a 1986 Ford Econoline 150 van I found in the junk yard on one of my many, many visits there. This wheel will bolt right in place of your original wheel, however, you will have to reuse your original center cover with the late-model wheel because by 1986 Ford added a "Resume" button to the wheel that the earlier model Broncos did not have. Also the simulated wood grain in '86 was a much lighter color than the dark walnut '79 style wood grain. As you can tell from the picture above, this is not a problem because the center cover from the '79 wheel fit perfectly on the '86 wheel.
When you start your search for one of these things in the junk yard, don't get discouraged too soon if you can't find one. Not all '86 model vans and trucks had this wheel. It was STILL an option even as late as '86. Also, I believe that the '87-'96 non-airbag wheels will also fit on the 78-79 Bronco, so you also may want to consider looking for the newer style '87 & up wheels if your Bronco does not have cruise control or if you don't care if there is an extra button there.
So, how does the wide-grip '86 wheel feel? Wonderful! I was shocked at how much difference just a silly steering wheel can make in the way a vehicle drives. Best of all, it's a fantastic bargain. This wheel only cost me $25.00.