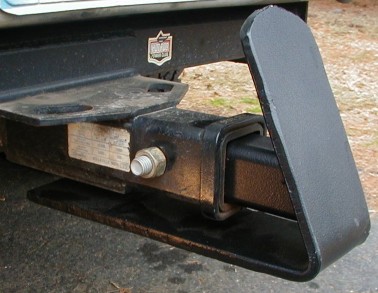 Now here's a unique product that you don't see everyday. This is a unique skid plate made by Mike Herron (a ProjectBronco Club Member) that fits into any standard receiver hitch.
The skid plate is made from 3/8" thick steel plate and features all-welded construction for maximum durability. Like most high-quality receiver hitch inserts, this skid plate has two sets of pre-drilled holes so that it can be adjusted in our or to suit your particular needs.
This skid plate will do a great job of protecting that expensive hitch when 4-wheeling, but it has a variety of other uses as well. A tow strap can be placed in the corner of the skid plate (the pocket rite at the bend) before it is slid into the hitch so that the tow strap will not come out. The rearward-facing flat surface is also a great place to put a sticker or a logo to show'em what you've got.
The cost of this skid plate is just $35.00, and ProjectBronco Club Members get a discount too! Mike can also build custom skid plates made to your specifications. Contact Mike at:
Mike Herron
4677 Windward Ct
Boise, Idaho
Phone: 208-377-4254
Email: muddinmike@hotmail.com
---


---