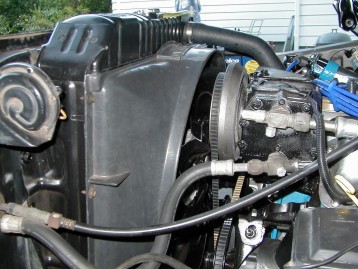 If you are reading this article, then you must be having the same problems I was having keeping your Bronco cool. It seems that no matter what I did, I couldn't keep the engine running cool. Well, part of the problem is that back in the '70s Ford was still using the old-fashioned down-draft radiators in it's light duty trucks and Broncos. Down-draft radiators are not as efficient as the more modern cross-flow radiators used in the '80 and up Ford trucks. Not only were they not very efficient, but they were also too small for the kind of duty that most Bronco owners perform with their trucks. Fortunately, there is a relatively inexpensive solution to this problem.
Modine Manufacturing Company of Racine, WI manufactures a monstrous, super heavy-duty maximum cool brass radiator (P/N 545) specifically for late '70s model Ford trucks. It is still a down-draft radiator, but it is so huge that I swear this thing could keep a WWII Aircraft Carrier's engine cool!!! Just take a look at the Max-Cool radiator specifications below when compared to the specifications of the stock heavy-duty Ford radiator:
| | | |
| --- | --- | --- |
| Dimensions: | Stock Ford HD w/AC | Modine Max-Cool #545 |
| Core Size | 19 1/4 x 26 1/4 x 2 (3 Row) | 24 3/16 x 26 1/4 x 2 (3 Row) |
| Inlet Header | 3 x 26 3/4 | 4 1/4 x 26 3/4 |
| Outlet Header | 3 x 26 3/4 | 3 x 26 3/4 |
| Inlet Conn. | 1 3/4 -- Right | 1 3/4 -- Right |
| Outlet Conn. | 2 -- Left | 2 -- Left |
| Type of Mount | Double Flange | Double Flange |
| Oil Cooler | 12 in. | 12 in. |
As you can see from the chart, the Modine radiator is over 5 inches longer and over 1 inch wider than the stock Ford HD radiator. I must say that these dimensions do not do it justice because it seems even larger than that!
Despite of the size of this radiator, it will bolt in to your Bronco with only a few minor modifications. The only things I had to do when I installed this radiator was to trim about 1 inch of material off of the stock upper radiator hose and I had to push the stock automatic transmission cooling lines down far enough so that they would screw into the new radiator. The lower radiator hose fit with no problem at all. Unfortunately, the stock fan shroud would not fit on the new radiator, so I had to buy a new one from Ford (P/N D7TZ8146D).
Click on each thumbnail to enlarge
So how much will this gargantuan radiator set you back? Well, I ordered the radiator from Parts America (before Advance Auto bought them out) for $350.00. The new fan shroud from Ford list for $101.48, but I complained a little and the parts guy knocked the price down to $86.26. Grand total: $436.26
I know this price sounds a bit high to replace a radiator, but this price is not all that high when you consider the fact that the only other alternative to this radiator that I know of is the BECool custom-fit aluminum radiator (P/N 62025) for the 73-79 F-150 which retails for $541.69. This radiator is made of aluminum, which is a little more efficient at heat dispersion than brass, and is a cross-flow design instead of the standard down-draft design, however, it is the same size as the stock Ford unit (26 x 19 in.), so I doubt this radiator will cool much better than the much larger brass Modine unit. Besides the higher cost involved, you will have to buy two 1/4" MP x 5/16" Inverted Flare Transmission Cooler Brass Fittings, make a custom set of transmission cooling lines and find a radiator hose that will work on a cross-flow system (although you may be able to use the cooling lines and radiator hose from a 1980 Bronco with a 351M engine and a C6 trans to make it fit???). g
Paul's Product Score: I gave the Modine radiator a perfect 10. I'll bet you never thought I'd give anything a 10, did you? But hey, what's not to like? It's all brass, has a life-time warranty, and fit perfectly. What more could you ask for when performing an upgrade to your Bronco?