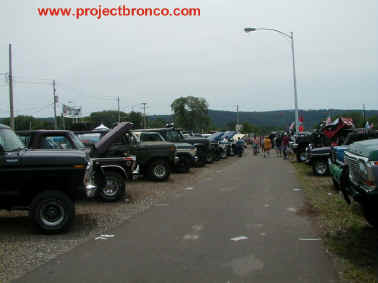 ProjectBronco.COM 3/04/03 -- Once a year ProjectBronco.COM holds its annual club meet at a major 4x4 Jamboree as a fun way to get all 78-79 Bronco owners together so everyone can meet face-to-face. The third annual club meet will be held this year at the Indiana 4x4 Jamboree in Indianapolis. The Indianapolis Jamboree is THE largest 4x4 event in the country and has more fun-filled events and activities than you can shake a stick at! Last year the second annual club meet was held at the Bloomsburg, Pennsylvania 4x4 Jamboree. We had over 20 Broncos in attendance and had members come from as far away as Texas! Let me tell ya, all of us had more fun that should be legally allowed!
Due to the EXTREME popularity of last year's Jamboree, we are expecting around 40 (not a misprint) members to attend as of this writing, and it's only March! Still, we need to make absolutely sure that ProjectBronco Club is the first or second largest club in attendance so that we can have our own spot reserved just for us.
Last year every member that attended sent in their registration individually to Specialty events. Because of this, the PJB club did not get credit for all 20 members in attendance. Therefore, this year we are collecting all of the registrations to Specialty events at ProjectBronco and will be mailing all of them in at the same time!
If you are interested in joining us this year, keep reading the FAQ section below to find out how.
The Indianapolis 4x4 Jamboree is, of course, a public event, so anyone can attend the Jamboree just by paying general admission charges at the gate. However, the ProjectBronco Club is going to be part of this year's Jamboree and will have an area sectioned off inside the event where club members can park their trucks and hang out with the club. We hope to have our own area reserved for us at this year's club meet. In any case, parking spaces will be limited and we expect the spaces to fill up VERY QUICKLY. All 4x4 clubs that do not have a space reserved for them (i.e. all clubs for the exception of the two largest) have to have any ropes or tape they used to section off an area for their club taken down by 9:30 in the morning, so in the event that we do not qualify for our own reserved space, any spaces we don't use will fill up very quickly by other 4x4 owners. Therefore, ProjectBronco club members and their guest get to park first. If we have room we will welcome any 78-79 Bronco owners, and anyone attending the event is more than welcome to come on in and check out the club.
The first step to participate in the 3rd-Annual PJB Club meet is to join the PJB Club. To join, click here. You can also join the PJB club at the club meet. Pre-packaged memberships kits will be available at this year's meet, so you can save on shipping cost. If you join the PJB Club through the mail or are a current PJB Club member, you will need to contact the PJB Club meet coordinator and let him know that you wish to attend the club meet. To contact the club coordinator, send an email to:
The second step is to register with Specialty Events & mail your registration to ProjectBronco. See the next section blow.
I
This year the ProjectBronco Club will collect all registrations to Specialty events and will mail all of them in at one time. This is the only way PJB can get credit for each club member who plans to attend. The deadline for sending in your Specialty Events registration application to PJB will be no later than August 10th, 2003!

To register your Bronco or Ford 4x4 with Specialty Events, follow these steps:
Special Events
ProjectBronco

ATTN: Special Events Jamboree Registration

130 South Tyger Lane

Roebuck, SC 29376
Remember, all Special Events registrations we receive will be mailed in to Special Events at one time no later than August 10th, 2003. Everyone will receive their Jamboree confirmation via email approximately two to three weeks after we mail the registrations on August 10th.
NOTE: If you do not wish to park your Bronco or Ford 4x4 with the PJB Club and only wish to park outside and walk in the event, then you only need to buy tickets for the event. Ticket prices are currently (as of this writing) $18.00 /day for adults and $10.00 / day for children age 12 and under. Discounts are given for multiple day passes. You will also need to make sure you bring money to pay for parking as it is our experience that there is no free parking at these events.