---
Join the PJB Club for the 3rd annual 78-79 Bronco club meet!
---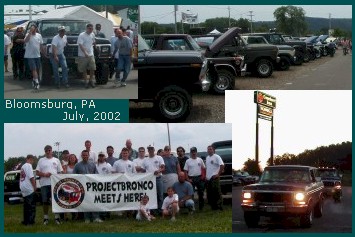 Hello Bronco owners!
If you've had the opportunity to browse some of the pictures on this website from ProjectBronco's 1st and 2nd annual club meets, then you may have already guessed that our club meets are one of the hottest things going in the world of classic full-size Broncos!
This year (2002) we had 20+ 78-79 Broncos in attendance at the Bloomsburg, PA jamboree. Everyone had a fantastic time and the whole event was smashing success! For years 66-77 Bronco owners have had tons of club meets and special events held for them, and now classic full-size Bronco owners do too!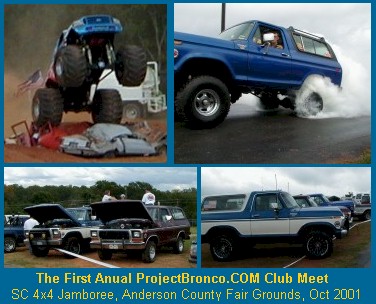 We are still in the early planning phase for the 3rd annual PJB club meet in 2003. An official location has not yet been chosen, but so far it looks like it will most likely be held at the 21st Annual Advance Auto Parts Fall 4-Wheel Jamboree Nationals in Indianapolis, Indiana. For more information on Specialty Event 4-Weel Jamborees, visit http://www.truckworld.com/Shows-Events/01-indy/01-indy.html
We have, as of this writing, over a year to plan for this event, so don't start working overtime in the garage to get that old Bronco ready just yet! One thing is for sure, and that is that we are going to do a few things a little differently for the 2003 club meet.
First, instead of reserving rooms at a hotel near the fairgrounds, we are planning on renting a campsite instead. The general consensus among our current members is that camping will not only be cheaper, but will be a lot more fun and everyone can hang out and party together in the evenings after each show. For those of you who would prefer to stay in a hotel or a cabin, we are planning to reserve some rooms and campground cabins (if available) as well.
Second, instead of each participant sending in their registration to Specialty Events, we are going to collect all Jamboree registrations and mail them in all at once. This will give the PJB club the best chance for being the 1st or 2nd largest club in attendance. If we can achieve this, Specialty events will reserve a spot for us at the Jamboree for the entire duration of the show. That way none of us will have to get up at 4:30 in the morning to reserve our spot each day!
In the near future, we will publish a new page with complete instructions on how YOU can attend the 3rd annual PJB club meet. This year, as far as we know, we broke the record for the largest number of 78-79 Broncos gathered in one place since they were sill on Ford dealer's lots 23 years ago. Next year we intend to break our record!
If you have any questions, please feel free to drop us an email to: broncoclub@projectbronco.com
We look forward to seeing you there!
Paul Eschenbach – Webmaster.
---