---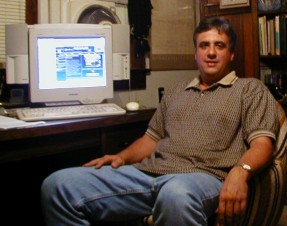 Okay, Okay. I debated with my self for a long time whether or not to even include a small section about myself and my staff on this site. However, I figured it would make the site a little more personal. Who knows? Maybe someone out there actually cares who we are!
Having said that, I guess I'd better say something........
Well, my name is Paul. I'm a Network Engineer for (believe it or not) a BMW supplier in Spartanburg, SC. Okay, don't hold that fact against me. It's a living man!!! Besides, It's fun driving state-of-the-art cars that no one has even seen yet!
---
The ProjectBronco.COM Staff
Well, no good web site would be complete without giving credit to all of the staff members who make this site possible. It takes A LOT of hard work, coordination, and team work to publish a site of this magnitude. I just want to say thanks girls! This site would not be possible without all of you!
The ProjectBronco.COM Staff Members
Title

---

Staff Member

---

Staff Photo

---

Editor in Chief

---

Mini Maggie (Mini Mags)

Staff Member since 1999

---

Lead Mechanic

---

Gator (Trapper)

Staff Member since 1996

---

Chief

Photographer

---

Morgan (Nubby)

Staff Member since 1991

---

Director of Marketing

---

Bruno (Bru Bru)

Staff Member since 1994

---
---
My Opinion on other Broncos and Ford Trucks
I am truly a die hard Ford truck fan. I love ALL Ford trucks, regardless of the year or model (except for the new ones). I like some better than others (obviously), but for the most part Ford has never manufactured a truck I didn't like until 1997.
Pre 1973 Ford Full-Size Trucks -- I believe all trucks Ford built before 1973 are true industry classics. No matter what year you pick or how far back you go, you can be assured that it will be the industry leader for that year and will be a true work of art.
1966-1977 Ford Broncos -- These are the original first-generation Broncos from Ford. They are all valuable classics and were absolutely fantastic trucks. They were simple, easy to work on, and made incredible off-road vehicles. To this day I can't figure out how on earth the Jeep CJ-5 and the CJ-7 became so popular when people could have bought the much more versatile Bronco instead. My favorite model was the 1966 Roadster.
1973-1979 Ford Full-Size Trucks -- I know I'll get some arguments out of this, but I believe these were the best trucks Ford has ever built -- period. They had the best styling, were the most rugged, and were the highest quality trucks built not only by Ford, but by anyone, anytime, anywhere.
1978-1979 Ford Bronco -- I think it goes without saying how I feel about these trucks. However, for the record I believe that overall these were not only the best Broncos Ford ever built, but were the best SUVs ever built by anyone, anytime, anywhere.
1980-1996 Ford Full-Size Trucks and Broncos -- While it is hard to group all of these years together because of the wide variety of models and options available during this 16 year period, I can say that for these 16 years all of these trucks were the industry leaders in their class -- period. They were the highest quality and longest lasting trucks built in the world during the time. I like them almost as much, and in some cases even more than I like the 73-79 Ford trucks. I think my favorite ones would have to be the 1984 351 HO F-150 and Bronco, the 1992-1996 Eddie Bower Broncos and the 1995 to 1996 Power Stroke Diesels. I would own anyone of these vehicles in a heart beat!
---
My Wedding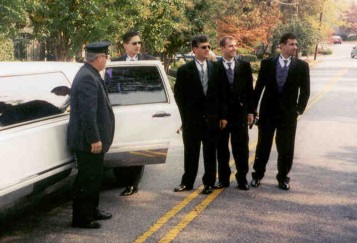 If you have been following this web site since October of this year (2000), then you probably already know that I was married to one of the most special ladies in the world on October, 21st, 2000. I won't bore you all with too many pictures, but since this section of ProjectBronco.COM is the closest thing I have to a personal home page, I thought I'd throw in two or three of my favorites pics of the wedding just in case someone may be curious. This picture was taken in Tryon, North Carolina (just over the SC state line) and is of my wedding party on our way to the church. The Limo is a super-stretch Lincoln Town Car (of course). The fellow to the left (getting in the door) is my best friend Rob. That's me standing to the right of him. Standing next to me is my youngest Brother Eric, and to the far right is my best man and closest Brother, Tyson.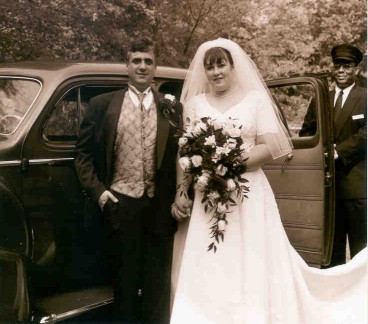 Man, we all had one heck of time that weekend. If there's one thing I can say about South Carolina it's that we sure know how to put on a wedding!
The picture to the right is of Kristy and I getting ready to take our fist ride as husband and wife in this beautiful 1939 Cadillac Limousine. No, your eyes do not deceive you, this is a black & white photograph taken at our wedding, not in 1939. I hired the Limo as a surprise to Kristy and I made sure the photographer (no, not Morgan, the REAL photographer) brought along a roll of black & white film to make sure that we had some pictures we would always remember and cherish. This particular picture was taken just outside of St. John the Baptist Catholic church in Tryon, NC. The limo driver, by-the-way, was of the most courteous and friendly persons I have ever met. I don't remember his name, but I just wanted to take the opportunity to thank him for going out-of-his-way to make this a truly special occasion for us.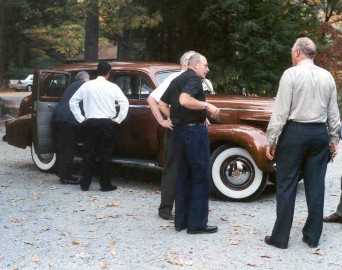 Hmm..... Would you take a look at this! This is what happens when you get an entire family of car nuts together in one place and there's a vintage, mint-condition 1939 Cadillac around. Everyone gets more interested in the car than thy do the Bride and Groom!!! Even the priest, Father Carl (in the center wearing the black shirt) couldn't keep his mind on anything but that wonderful old car!
Oh, and let me tell you, riding in that old Limo from the church to the reception was one the highlights of my life! I think about the only thing I have ever done that was more of a thrill was the first (and only) time I got to fly in a vintage 1944 B-17 Bomber. (I forgot to mention I'm an old WWII airplane nut too, didn't I???). Well, that's it for now. I have relatives all over the country who read this site as well, and sure they'll want to see some more photos as the come in, so I may have one or two more pictures up here in the future!
Talk to you all soon!
-- Paul.
---